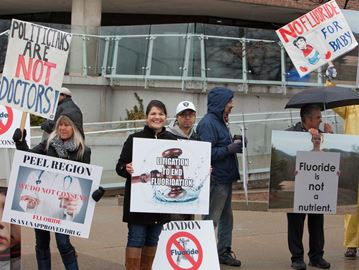 By Roger Belgrave
Peel's Medical Officer of Health told a committee reviewing the use of fluoride in the region's drinking water that there is no "quality" or "relevant" research to suggest the longtime practice poses a health risk when Health Canada standards are followed.
Dr. Eileen de Villa spoke to the region's Community Water Fluoridation Committee Nov. 24 to present staff findings from a review of studies on the effectiveness and safety of community water fluoridation.
De Villa brought two thick binders filled with studies to the meeting — illustrating the vast library of research material produced worldwide on the health effects of fluoride in drinking water.
She noted the volumes of available data vary in quality and relevance to the situation in Peel, where fluoride is added to municipal water under strict government guidelines and at low levels.
De Villa attempted to respond to a number of concerns raised during this process initiated earlier this year to produce a recommendation to council on whether the region should continue water fluoridation.
Concerns about the region's fluoridated water causing fluorosis are not supported by evidence that show rates of moderate to severe cases are "so low that they cannot even be reported," she said....