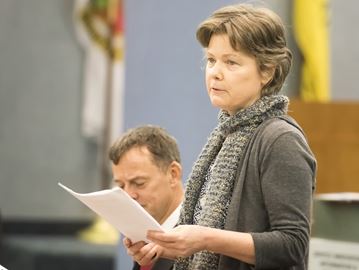 Peel anti-fluoride lobby spotlights toxic cleanup needed after Hwy. 401 pileup
Christine Massey, an anti-fluoride activist in Peel, calls the chemical used to fluoridate drinking water a "clear and present danger" following a toxic spill on Hwy. 401. She spoke against the continuation of the water treatment practice at the Peel Region council meeting March 9, 2017.
Brampton Guardian
By Roger Belgrave
Peel water fluoridation opponents are pointing to the extensive environmental cleanup needed this week, after a Highway 401 pileup, to illustrate the serious health risks associated with the local water treatment practice.
The multi-vehicle collision in the westbound lanes of Highway 401 in Leeds and the Thousands Township occurred at about 2 p.m. on March 14.
It resulted in one death, dozens hurt and a 32-hour closure of a portion of the busy highway.
One transport truck involved leaked its cargo of hydrofluorosilicic acid (HFSA), a chemical produced from phosphorite rock that is commonly used in water fluoridation.
According to Ontario Provincial Police, the "toxic spill" resulted in a precautionary evacuation of the immediate area and seven firefighters, three police officers and 17 civilians were treated, as a precaution, for exposure to the chemical.
According to the Ministry of Environment and Climate Change, the transport truck leaked about 7,000 litres of the chemical.................................