Australia - THE GREAT FLUORIDATION DEBATE with world renowned authority, Professor Paul Connett.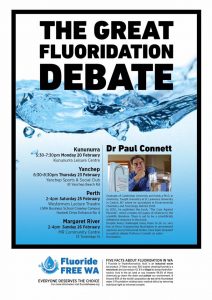 What is it about fluoride anyway? Is it safe and effective or is it toxic and should be avoided?
Come and hear from #1 international expert Professor Paul Connett, as he explains it all!
A not-to-be-missed event for all health conscious, parents, teachers and health care professionals.
ENTRY BY GOLD COIN DONATION!
Tour Dates:
Kununurra – Monday 20th February 2017
Yanchep – Thursday 23rd February 2017
Perth – Saturday 25th February 2017
Margaret River – Sunday 26th February 2017