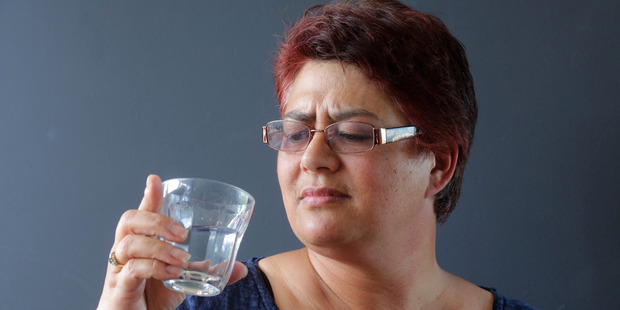 Anti water fluoridation campaigner Lynlee Aitcheson-JohnsonIs not savouring the prospect of region-wide fluoridation.
PHOTO/DUNCAN BROWN
More fluoridation of Hawke's Bay water will be strongly opposed by an anti-lobby group.
The Hawke's Bay District Health board would likely impose it on the whole region thanks to an upcoming law change.
Until recently Hastings' urban area was the only part of Hawke's Bay with fluoridation. It has been temporarily suspended while the water is being chlorinated but will resume shortly.
The rest of Hawke's Bay is permanently unfluoridated but that looks set to change.
A new law is expected to be passed in Parliament in about 18 months' time, allowing district health boards rather than local councils to decide on water fluoridation.
Councils would still be responsible for supplying drinking water and the cost of fluoridation borne by councils.
Mary Byrne, the national co-ordinator of lobby group Fluoride Free New Zealand, said the group was going to challenge the proposal after the legislation's first reading when it goes to a select committee.
"This is our opportunity to put submissions forward where we present information that fluoridation is not effective against tooth decay and rather has risks to dental health. We will show good alternatives for public dental health that work."
She said if the committee did not make the change they would have until 2018 before the law would be imposed.
Napier Mayor Bill Dalton said Napier would have no option but to comply with the new law.
"I very much value the purity of our water supply in Napier and my personal view is it should stay pure and untainted," he said...............................